Welcome to a story of a world where familiar stories are suddenly twisted together  and rewritten.    It is a large world of 'pretend', one in which the good, the bad, and possibly the ugly, are not who and what they seem.
Starting today, we begin with the  first real installment in the "Red Riding Hood" arc of the world. (This features the first part of chapter 1.)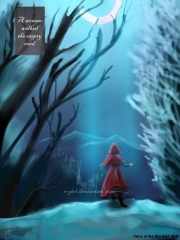 The next update will follow in two weeks time (barring requests to update sooner).

Thanks for reading, and please enjoy the experiment. Please click "Chapters" or go here to start reading!
Edit: As the next update is awkwardly short, I will post that smaller bookend to Chapter 1 on the evening of 11.21 (EST) and post a more substantial update (the start of Chapter 2) on 11.28.