So this page is basically a placeholder for all chatter we want to have about what's up in the future, as in next week (when I start compiling notes) and beyond.
I know most of you aren't on the other social networks I play in (Tumblr, Twitter, Deviantart, Facebook) and that's okay. If all you want to do is leave a comment here with your email, I'll be happy to email you when I start up Volume 2.  You can always return to this page when an idea strikes you or you want to say hi. I will be monitoring all comments at this site anyways!
For the junkies, I wanted to talk about the things I'm mulling . After the random sketch!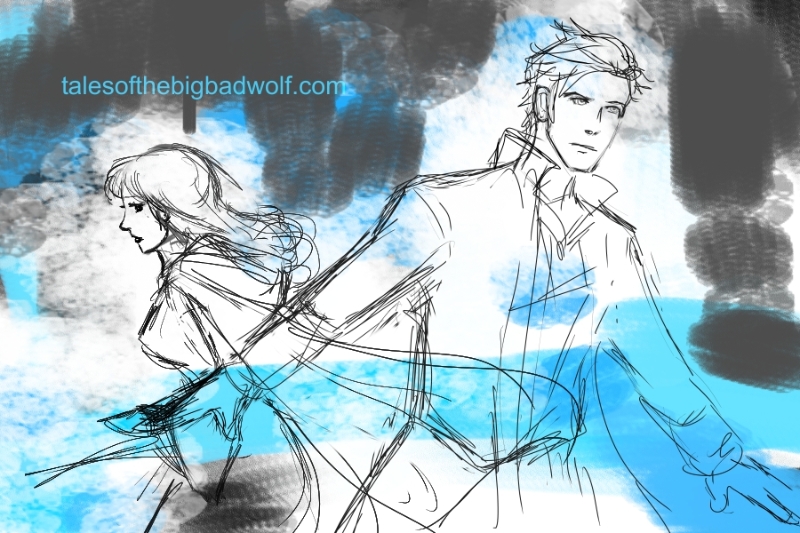 How to Make Your Break Less Painful
I won't go on complete radio silence on this site while preparing for the next "book" in this series. However, I want to make sure that what I post is of value or interest. (Otherwise it's just me talking to myself!) The stuff I'm considering posting on a biweekly basis includes
Posting artwork (I need to work on pieces for Red Riding Hood and sketches for "The Queen of Swans")

Writing journal/narration from a TBD character(s). I don't think it will be Edmund, Elanore or the Count.  I'm more interested in exploring Hastings, Giles, possibly Selva/Ilva , and some of the secondaries if only to evaluate how I'll use them (if at all) in the next volume.  FEEDBACK as to WHO is welcome.
Drafting snippets of text featuring new characters to be featured in the next arc.  These would be experimental and possibly removed /archived once the story formally starts. (These would be warm-ups and possibly completely void later.)
Other things that you guys suggest!
What a few other web authors suggested was exploring posting guest work from others.  That said, I know it has to be of interest to you guys, so my preference is to feature your fanwork using any characters from "Red Riding Hood."  As long as your fanfic/writing or art/comics are generally safe for work, I'd love to feature you and your stuff!  Please let me know if you think you'd be interested!
EBook
I will not be looking to make the eBook a heavily-edited novel.
This first version of the ebook is going to be for the people who hate reading on the web and a few people who have told me that they can't read the story without a friendlier format. So it'll be a cleaner version of the serial with no major changes to the content.
The cost of taking something like Volume 1 and paying for content and copy-editing is pretty enormous.  So this is going to be largely me trying to brush up on rules of grammar I had long forgotten.   (So far, am working on changing all the "can not" back to "cannot" and fixing all the instances I broke the rule about using commas with conjunctive phrases. Whee!)
I know some of you have a better grammar filter than I do and so if you notice a bad habit on my part please drop me a line or post it on installments where you see it.  Thank you in advance!
Paper copies
My biggest fear is going to print with a lot of mistakes. I would like to wait to see what happens with the eBook editing first before I even begin pricing this out. However, if I do make some early review or convention copies, I will only make a very limited amount but  will let you know in case you want a copy too.
Reviewing
I've asked for your reviews and support. Unlike other web authors, I've been lucky enough so far to have the ability to freely provide my work so far.  It would be great to have your help with the promotion of this work. Here's what you can do!
Leave reviews and/or rankings at the directories for web fiction

Log in and Vote/ comment/ re-read the story at Wattpad   – Each vote/comment and read for the sections helps the story float up the rankings and find new readers.   If you're on Wattpad, please consider suggesting that the story there be "Featured"  using their feedback form.

Share the link for this site with those who you think will like this story or with "free book" sites. 

Read other webfiction stories and support the authors!
YOUR QUESTIONS!
I won't be able to answer all and every question (particularly if it has to do with the contents in the next volume), but I am happy to talk about questions you have based on what was pointed out in this volume. If there aren't any forthcoming, next week I'll talk about some of the endings or plot points I discarded.