Hi guys!  Back from Momocon, and much to my surprise and delight, I got to talk to three people who said they were regular readers of this story!  I didn't ask for your names and such, but hope if you see this post, you'll let me know who you are xD.
Again, no text update this week, but I have some fun art things to share with you.
Remember Pigeonstar's awesome fight picture?  I've made three resolutions of that wallpaper (with her advance permission)available here for a limited time.
Also, my regular table partner/art buddy Lewis Cox, aka "LC3," surprised me yesterday with a really awesome copic sketch.  I love his work and I love this image!!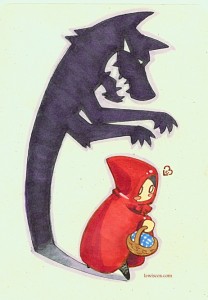 Lastly, are you still with me now?  I am going to be giving away five sets of bookmarks+vinyl stickers. The stickers come courtesy of Lewis,based off the charm designs!  To be eligible for those, you have to email me at thegatekeeper@talesofthebigbadwolf.com .  First priority goes to commentors who already are in the comment database (i.e., you have commented before today). 🙂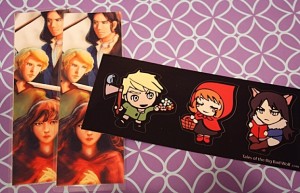 More to come art-wise actually, but that's enough for now. (I'm in the midst of post-convention reorganizing), but otherwise see you next Sunday !  😀