New readers: Before there might be a queen, first there must be a king.  Read a tale of a  lone wolf, a hunter, and a woman with a red riding hood who cross paths one fateful winter. (Click the icon!) The follow-up volume will begin serializing here in May, so catch up while you can!
Last week's update:  Part 4 of the Good Mate . Giles caused more problems. He'll be back detailing something funny next week.
This week, click to see another new character for the the next volume, "Queen of Swans."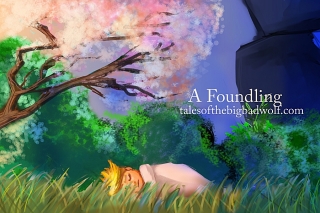 A lot of characters in this universe are alone or isolated at some point. This image is of one such character at an unspecified time/place who simply turned up one day, much to the consternation of those who found him. See children aren't supposed to just drop out of thin air or show up randomly. To the knowledge of the inhabitants of the Northern lands, there is no stork or baby fairy. Exactly who this child is related to (or supposedly related to) and where he shows up I would rather not say for now. You will have to find out!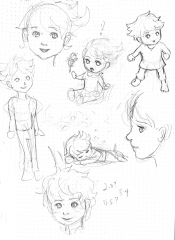 The age of the child was something I have been struggling with. As cute as it would be to draw the smallest possible age that one can get away with, from a practical standpoint, it's more useful to have a child with enough agency that they can get into trouble on their own or refuse the decisions of others. This narrows down my thinking towards the age of 4-6.
And on a practical note, just letting you know that I'm going to be setting up a character page for Queen of Swans separate from the Red Riding Hood Page. To accommodate all of these new pages on a crowded menu bar, the "Characters" pages are going to now align under "The World" on the menu bar. To see a slightly spoilery list of which characters have made the cut for Volume 2, you must click on the vote incentive below. 🙂
And yes, I still plan to start in May, likely after Mother's Day.