First time visitors: You are welcome to join us above, or start with Volume 1: "Red Riding Hood" here. Hope you enjoy!
Continuing Readers:  And so the trouble begins to unfold…. 
Please bear with me for a moment before you click the link for the start of Chapter 6.  I am going offline as of Saturday for vacation plus a convention.   If I can be productive with my next three days and  auto-scheduler plays nicely, the next part of Chapter 6 should show up next Monday, followed by two brief  installments of Sleeping Beauty.
If for some reason it doesn't, I will do my best to try to come back online and fix what I can but it may not be immediate.
Anime Weekend Atlanta
I am technically supposed to have a table at Anime Weekend Atlanta on September 27-29.   I am not quite sure if that will work out.   While I won't have the final copies of the "Red Riding Hood" paperback at this convention, I will have five or six proof copies available to purchase at-cost.  If you will be attending AWA and wish to reserve a copy for purchase , please let me know how best to contact you at convention to inform you where I am (or in the worst case scenario which buddy you can pick up copies from).  Also, will have this set of 1.25 inch buttons available as well.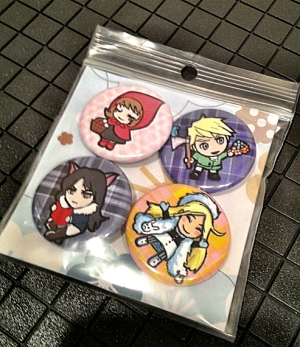 In any case, hopefully the next few weeks will go smoothly with posting. We shall see!