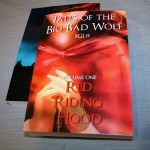 New readers: Explore a fantasy world full of the fairy tales that you only thought you knew. Start with Volume 1: "Red Riding Hood" here or consult the "Guide for New Readers" above.
Continuing Readers:  Chapter 14, "The Moving Shadows" of "Queen of Swans" concludes! 
And here's the best part of this post.  The "Red Riding Hood" will be available (later) tonight at Sparkler Distro's storefront at http://sparklermonthly.com/product-category/big-bad-wolf/ . An option to purchase a  non-DRM ebook separately or in a bundle with the paperback also will be there for all of you.  All books will come with a bookmark as well!
I hope to add convention buttons and new charms designed by Sir_Grimoire up there next month.
While you're there — please also look through the other books published and/or distributed by Sparkler and support their efforts to bring independent creator works to a larger audience :).  If you have the time, please also read and comment — the community there is very friendly!