Those that follow my tumblr know that I post stuff up there that often relates to this site.  Some of these things don't qualify as finished enough to be posted here or become prints.  In any case, I'm curious if people like collecting art sketches.  I've been thinking about taking some of my pencil and copic sketches and awarding them to those  of you who are regular visitors. (Granted, it will be through some sort of contest-obstacle-course-torture format, but I'll do my best to make it interactive and entertaining.) Let me know if you'd be interested!
Now, regular commentors, to the fun part!  

As some of you have observed, I've been putting together new artwork for this site. I have a convention coming up in March and have been doing test prints and bookmarks.  See case in point–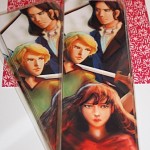 I have eight prototype bookmarks available now for free to those of you in the U.S./Canada arena.  That said, please note that priority for these first eight will be given to those who already are in my comment database.  To qualify to receive one, you need to email me at the email address (on the right under "Poke the Creator") before Saturday 11:59pm (your time).
In your email, please include name and mailing address, and… answer two of the first three questions.  Please make sure to also answer question 4, just so I can see if you're paying attention :p
1> In "Suzy's Box",  how many brothers and sisters does Suzy have?
2> What  color is Intan Aghnavi's hair in "Memory of AUSOS"
3>  How many planned chapters are there for "Activated"?
EVERYONE> Which character is your favorite in "Tales of the Big Bad Wolf" and why?