Miss me? 🙂   Hope you had a good Christmas weekend. Mine was pretty … hmm. Interesting? I didn't want to close out the year without another post, so thought I'd put up a color sketch I did.
With this, I may begin next year changing Art Wednesdsay for "Concept Wednesday" as I start posting notes/thoughts about two other stories ("The Sleeping Prince" and "The Swan Queen's Court") that I've been trying to sort through in my head. More than likely these will primarily be text posts with some really scratchy doodles versus colored sketches like these. I hope to finish this current arc next year and have enough material in my head to pick up with the next story, whichever it may be.
In any case loves, enjoy this pic! (NON-CON, btw!)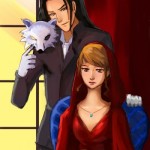 For the next update to the current chapter, see you Monday (Next year!) with more lion silliness. (Yes, the lions will get names for there will be a mess of them to deal with x_x!) In the meantime —
Continuing readers:  Catch up now here
New readers: Begin reading a story of a very mixed up, once upon a time, faraway place  here. Learn about this webserial here.