New readers: A lone wolf, a hunter, and a woman with a red riding hood cross paths. Their journey begins and ends in the space of one fateful winter.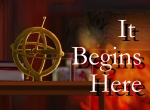 Veteran readers!
Giles stirs up drama in The Good Mate. He proves that around him, life is one romantic comedy.
New banner (if you see Wolfram and Red Riding Hood refresh the page or click around, it's there!).   MAY MAY MAY MAY MAY.